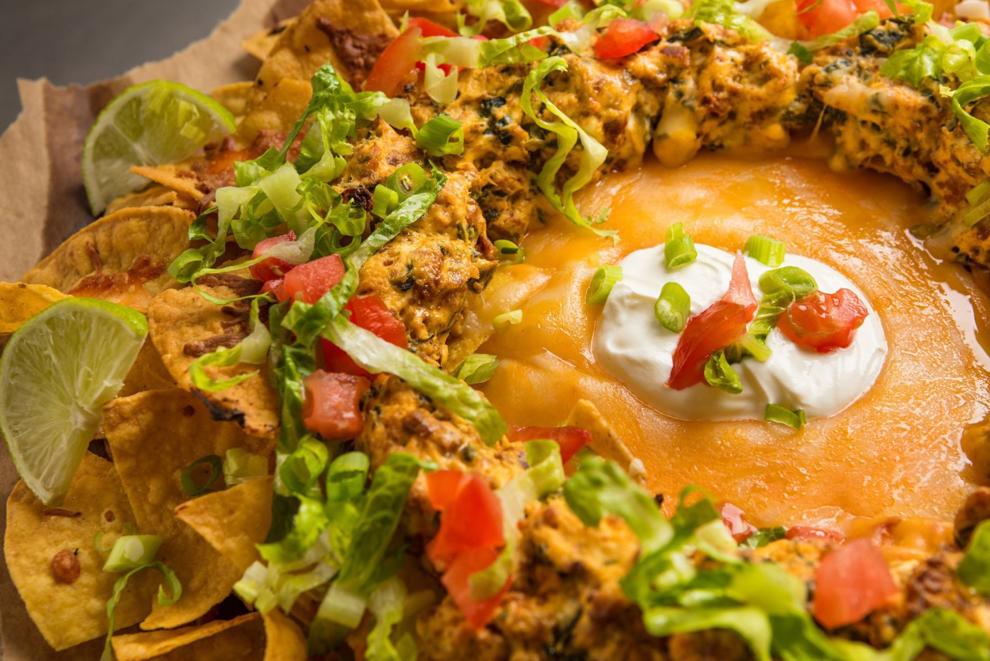 2 or 3 medium hothouse tomatoes, diced
2 scallions, trimmed and cut into thin slices (white and light-green parts)
Juice of ½ lime, plus wedges for serving
1 tablespoon vegetable oil
8 ounces fresh chorizo sausage links, casings removed
2 poblano chili peppers, roasted and cut into ¼-inch dice (see note)
8 ounces regular or low-fat cream cheese, at room temperature (do not use nonfat)
10 ounces sturdy corn tortilla chips, preferably DIY (see related recipe)
1 (8-ounce) block Monterey Jack cheese, shredded (2 cups total)
1 (8-ounce) block colby or mild cheddar cheese, shredded (2 cups total)
1 cup regular or low-fat sour cream, plus more as needed (do not use nonfat)
1 to 2 cups shredded iceberg lettuce, for serving
Note: Roast the peppers on a baking sheet in a 425-degree oven for about 20 minutes, until they begin to deflate and the skin looks loosened. Transfer to a zip-top bag and seal to steam for about 10 minutes, then discard the skins, stems and seeds.
1. Preheat the oven to 400 degrees. Line a rimmed baking sheet with parchment paper.
2. Toss together the tomatoes, scallions, lime juice and a small pinch of salt in a medium bowl.
3. Line a bowl with paper towels. Heat the oil in a medium skillet over medium-high heat. Once the oil shimmers, add the chorizo, in pinches; cook for 5 to 7 minutes, breaking it up with a wooden spoon, until the sausage is cooked through. Use a slotted spoon to transfer the chorizo to the lined bowl.
4. Discard the paper towels from under the chorizo in the bowl; add the roasted, diced poblanos and cream cheese, stirring until well-incorporated.
5. Arrange a layer of the tortilla chips in the shape of a wreath on the lined baking sheet, forming it as wide as possible. Scatter some of each cheese over the chips. Repeat to create two more layers of chips, and using about half the cheese, total.
6. Combine the remaining shredded cheeses and the cup of sour cream. Spoon the mixture into the center of the wreath.
7. Spoon the chorizo-cream cheese topping all the way around the inner edge of the wreath. Bake for about 10 minutes or until the cheeses have melted.
8. Scatter the tomato-scallion mixture and the lettuce (to taste) around the wreath. Spoon a dollop of sour cream at the center. Serve right away, with lime wedges.
Per serving (based on 8, using low-fat cream cheese, store-bought unsalted chips and low-fat sour cream) : 600 calories; 24g protein; 32g carbohydrates; 40g fat; 19g saturated fat; 90mg cholesterol; 730mg sodium; 3g fiber; 5g sugar
Adapted from "Buenos Nachos," by Gina Hamadey