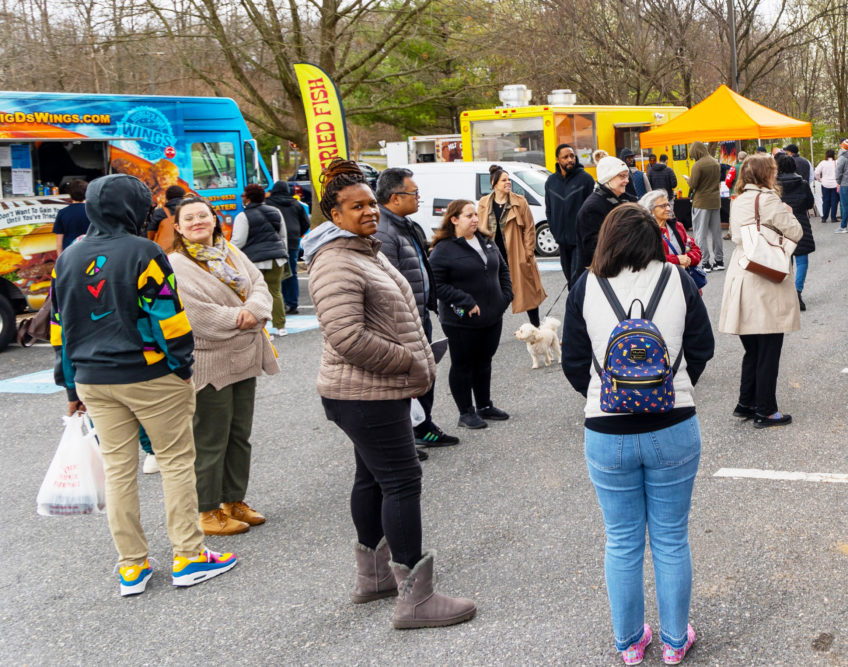 Greenbelt Holds First Food Truck Festival on Cold Day |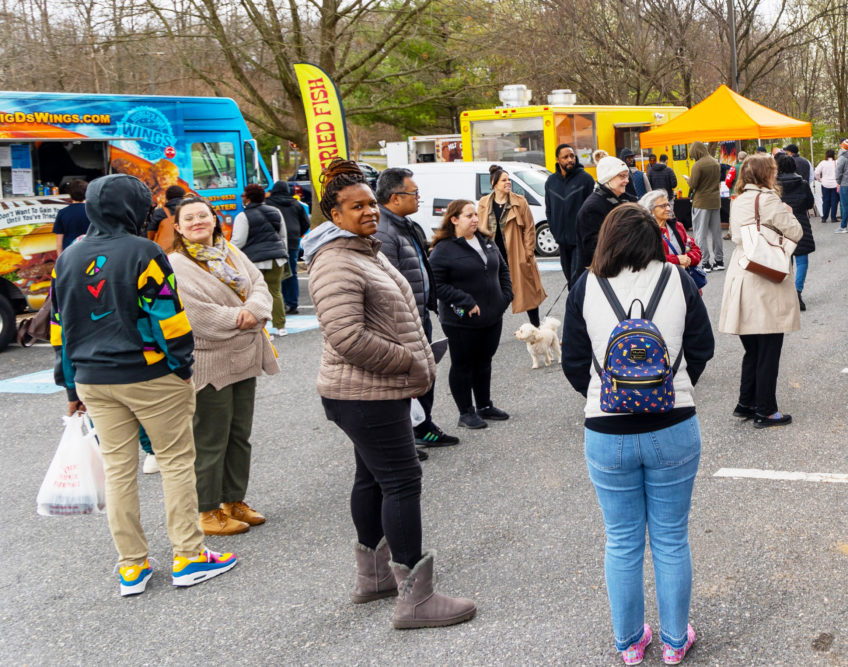 The 1st Annual Greenbelt Food Truck Festival is hosted by the Greenbelt Labor Day Festival.
Greenbelters enjoyed a delicious afternoon at Schrom Hills Park catered by dining on wheels. 
The first annual Greenbelt Food Truck Festival was held Saturday, March 26, bringing the community together in celebration with food and activities for all ages. 
Organized by the Greenbelt Labor Day Festival Committee in partnership with Greenbelt Recreation, the festival featured six different trucks and a sweet treats table. "This first event was a trial run for the community," as Mayor Emmett Jordan puts it. There is not a plan for how often these events will take place, he said, but "a festival like this will definitely happen again." 
Big D's Wings, owned and operated by Greenbelt locals, made an appearance. Opening in May of last year, Big D's has become a success in the DMV area. Featuring wings, burgers, fries and southern fried chicken, Big D's dishes are all family recipes. 
DMV and Beyond was also in attendance. Run by Shameka Cole on Saturday, the business began in 2007 headed by Cole's daughter. The name speaks for itself – the truck runs throughout the DMV and has gone as far as Richmond, bringing yummy food to communities throughout. There are several trucks, with different chefs featuring a variety of menus. 
PKG's Mobile Kitchen, a crowd favorite, participated in the festival as well. Owned and operated by Calvin Cain, also known as "Pop Pop," and his family, PKG stands for Pop, Kids and Grandkids. The mobile kitchen features a wide variety of family recipes including burgers, chicken and hot dogs. Cain said the secret is "we have a special seasoning that's made in Pennsylvania called comebacks … and it truly makes the people come back." 
Aunt Titty's, D & D Caribbean Kitchen, Good To Da Bone and Strib'ble Treats all held spaces at the festival as well, helping to draw crowds and raise money to support the annual Greenbelt Labor Day Festival. 
The festival ran through rain, shine and intense wind that afternoon, still drawing Greenbelters from all over the city and people from surrounding communities to join in the festivities. Even with the bad weather, people were able to enjoy the great food, including Jordan who had his own meal from DMV and Beyond. He said, "The food was great … and not many people go to or know about Schrom Hills so this event was a great chance to highlight the park." 
In addition to Jordan, Councilmembers Ric Gordon and Judith Davis enjoyed the afternoon alongside fellow Greenbelters. State Comptroller Peter Franchot was also there to enjoy the day. He congratulated Linda Ivy, president of the Greenbelt Labor Day Festival, for her dedication to the community and the event.