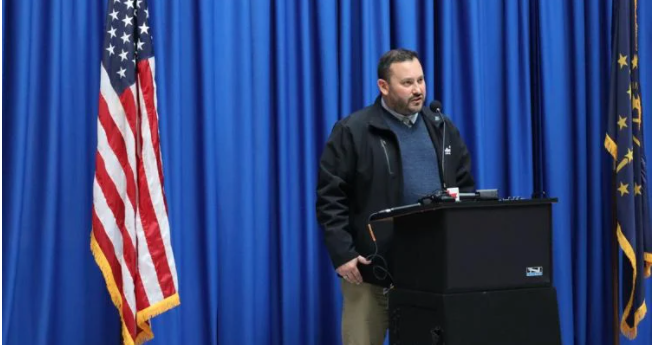 Hispanic Hoosiers face disproportionate food insecurity | News
INDIANAPOLIS — Many Hispanic or Latino Hoosiers are facing food insecurities, and food banks are working to give them the food access they need.
More than 8% of the Indiana population are Hispanic or Latino, according to The Indianapolis Star.
And they are twice as likely to face food insecurity than their white counterparts. Food insecurity is described as "the disruption of food intake or eating patterns because of lack of money and other resources." According to a study by Bread for the World, "One in five Latino households have at least one person going hungry."
Victor Garcia, president and CEO of the Food Bank of Northwest Indiana, attended a press conference at the Indiana Statehouse in February held by Rep. Mike Andrade, D-Munster, to discuss these and other problems. Garcia said the pandemic hit communities of color harder, specifically Latinx households.
"Latinx people are 2.5 times more likely to become food insecure than their white counterparts,'' said Garcia. Those individuals saw an increase in food insecurity after the pandemic, while white households saw a decrease in food insecurity.
Over the last two years, the Food Bank of Northwest Indiana has distributed, in total, around 20 million pounds of food.
"We are currently serving around 30,000-40,000 individuals each month, but in our community there are around 90,000 individuals who are food insecure," Garcia said.
Allyson Vaulx, vice president of development and communications for the Food Bank of Northwest Indiana, said the organization has started specific catering to Hispanics. It recently implemented "Spanish translation flyers for Mobile Market food distribution, SNAP outreach materials in Spanish, providing Spanish classes for public-facing staff, and specific Mobile Market food distributions in the East Chicago area twice a month in partnership with the Foundations of East Chicago," Vaulx said.
She lays blame for Hispanic or Latino lack of food access in part on language barriers, fear of being discovered to be undocumented and lack of transportation.
Jake Bruner, associate director at Hoosier Hills Food Bank said, "We saw 70 households with which 60% were Latinx, so we feel like we are starting to target more culturally sensitive foods for those distributions and trying to find those pockets of where those underserved individuals are."
Hoosier Hills recently started a mobile pantry specifically to help Latinx individuals. "One obstacle is that it can be hard to get those folks to come to a distribution because they may have fears of what that may mean for them, so we have been trying to break down those barriers," said Bruner.
According to Feeding America, "Racial prejudice and language, education, and cultural barriers create inequalities that make Latino communities more impacted by food insecurity." When it comes to working, the study found, "Latino workers, especially Latinas, are more likely to be employed in the leisure and hospitality industries that have been devastated by the coronavirus pandemic. Workers in these industries continue to face the highest unemployment rate."
Go to https://feedingindianashungry.org/ to find your local food bank. Food and funds can be donated to your local food banks, but Garcia stressed that volunteers are needed most.