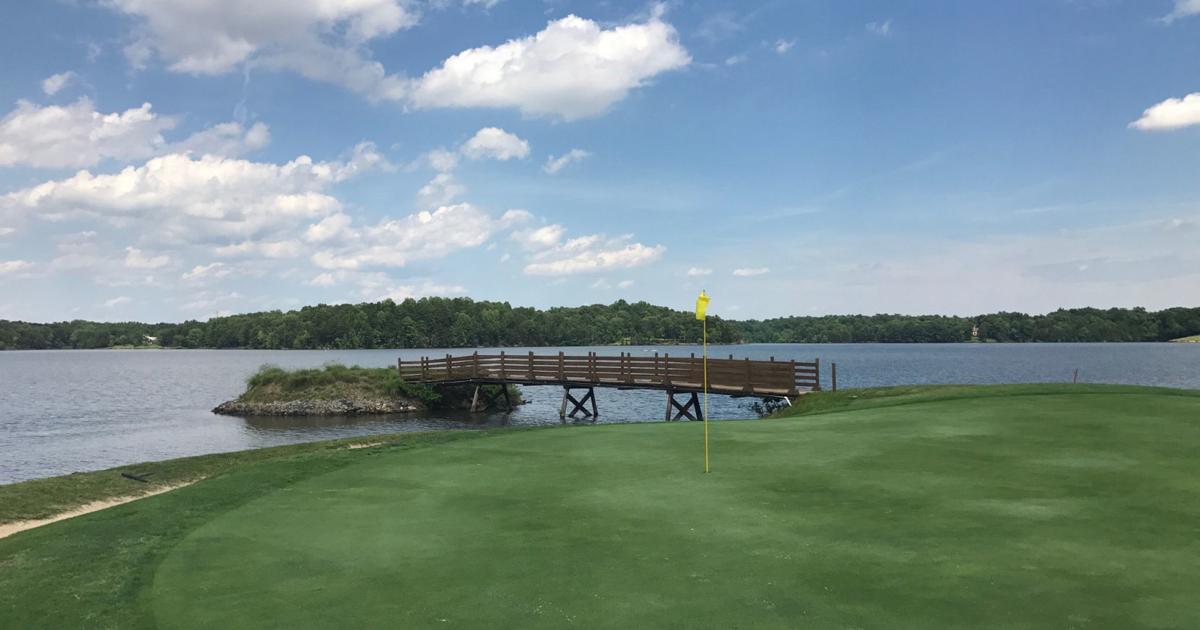 Is golf the greatest game? Find out at a High Point Parks & Recreation public course | Lifestyles

By Paige Moné Special to News & Record

The golfing great Arnold Palmer once said, "Golf is deceptively simple and endlessly complicated; it satisfies the soul and frustrates the intellect. It is at the same time rewarding and maddening — and it is without a doubt the greatest game mankind has ever invented."
Some people might take issue with that last part, but if golf is on your list of interests or passions, High Point Parks & Recreation invites you to visit one of the city's courses.
Oak Hollow Golf Course (3400 N. Centennial St.) is adjacent to Oak Hollow Lake. This challenging, scenic layout will test all your golfing skills. From its opening in 1972, this Pete Dye-designed course quickly became one of the top-ranked public courses in the country. Oak Hollow features many of the distinct characteristics of a Dye design, including railroad ties, pot bunkers, several peninsula greens and even an island tee. The small, undulating greens, however, serve as the most recognizable Dye trademark.
The site for Blair Park Golf Course (1901 S. Main St., High Point) was a gift to the city from descendants of Solomon Blair. Originally built as a nine-hole course in the 1930s, a second nine holes were added to this historic park in the mid-1940s. A favorite course with area regulars and known for its challenges, this golf course has been the host to many local golf championships.
Blair Park's course has numerous creeks that come into play on more than half of the 18 holes and offers something for every player, no matter the skill level. Bunkering is described as modest but strategic. Many notable golfers have visited this course, including golf legend Sam Snead, who once played an exhibition round here.
Both courses offer a pro shop and a grill room with daily specials. Blair Park also has tennis courts, while Oak Hollow features a driving range and easy access to the Oak Hollow Tennis Center and Campground. Discount cards for both courses are sold for $100 and entitle the bearer to a $5 discount off each 18-hole round of golf (with cart) throughout 2019. Discounts apply seven days a week and to seniors and Ladies' Day rates but are nontransferable.
Twilight golf rates from April to September apply on weekdays (Monday through Friday, except holidays) beginning at 3 p.m. Since the schedule can vary slightly at times, call ahead to confirm. Rates at Blair Park are $21 with a cart and $13 to walk; at Oak Hollow rates are $25 with a cart and $16 to walk.
For information or to schedule a tee time, visit www.highpointnc.gov/pr or call Blair Park at 336-883-3497 or Oak Hollow at 336-883-3260.
For more on what the season has to offer, including some programs and events coming up at Oak Hollow in the coming weeks, call 336-883-3260 or visit www.highpointnc.gov/pr to register.
Get golf ready
This is a great time to improve your current skill level through the Oak Hollow Golf Academy's on-course group golf lessons, taught by a PGA professional. For the more experienced player, Level 1.5 classes will be offered on May 14, 15, 16, 21 and 22. The cost is $99 per person.
Sip and Chip
Take advantage of this free "meet and greet" Sip and Chip opportunity to play some golf, enjoy music under the Pavilion by local musician Mike Coia and hear golf tips from our staff of professionals from 5:30 to 8:30 p.m. May 30.
Beer and wine will be available for purchase, and we'll offer snacks along with contests and prizes. No prior golf experience is necessary, and clubs will be available for your use. This event is free, but please RSVP by May 28 to save your spot.
Oak Hollow Open
Open to the first 100 teams of amateur golfers (age 16 and up) who register, the Oak Hollow Open on June 1-2 will offer a Par 3 Challenge: closest to the pin on all par threes on both days. Seniors (age 55 and older) will start from the white tees. More than $12,500 in prizes and gift certificates will be awarded.
The entry fee is a $125 per team, which does not include green fee or cart fee. Deadline for the entry application and fee is noon May 25.
PGA Golf Academy
Golfers ages 17 and under will gain insight from an in-depth analysis of their swing at this PGA Sports Academy class from 8 a.m. to 1 p.m. June 25 and 27 at Oak Hollow Golf Course.
Through video analysis, participants will develop a practice plan for improvement, as well as learn course management strategies under the supervision of the PGA instructional staff. The class also includes fitness aspects that help develop essential elements of the swing.
All materials and equipment are provided. The cost is $125 per person, and registration is required by June 21.
Food Truck Festival
High Point Parks & Recreation's second annual One Stop Food Truck Rally will be held from 11 a.m. to 5 p.m. May 18 at High Point City Lake Park, featuring live music by the Brothas Band and a variety of culinary offerings. For information, call 336-883-3469.
'Animal Traces' hike
Have you ever been on a hike — or even walked in your own backyard — and stumbled across some animal scat or tracks that you knew didn't belong to your pet?
Come hang out with a Piedmont Environmental Center staff naturalist from 10 a.m. to noon May 11 for "Animal Traces: Scats, Skulls and Tracks." Learn the basics of animal tracking and how to identify animals from the signs they leave behind.
The hike will begin at the environmental center, 1220 Penny Road in High Point and will last approximately 90 minutes along four different environmental center trails. The cost is $5 per person, and registration is required by May 8; call 336-883-8531.
Wildflower sale
Beautify your home garden with seedlings like purple coneflowers, black-eyed Susans, bee balm, common milkweed, butterfly weed and Indian blanket, available at Piedmont Environmental Center's annual wildflower sale from 8 a.m. to noon May 18. The cost of each seedling is 75 cents.
The center is located at 1220 Penny Road in High Point.
Yard sale
Would you like to sell some items that no longer "spark joy"? Or maybe you need to clear some space in your attic or garage? the Oakview Recreation Center, 503 James Road in High Point, is accepting applications for yard sale vendors for the May 25 sale, scheduled for 7 a.m. to noon.
The cost for vendors is $10 per table; $5 for each additional table. Space is limited and preregistration is required; call Oakview at 336-883-3508 to reserve a space. Shoppers are welcome.
Paige Moné is the marketing coordinator for the city of High Point Parks & Recreation Department. Contact her at [email protected]