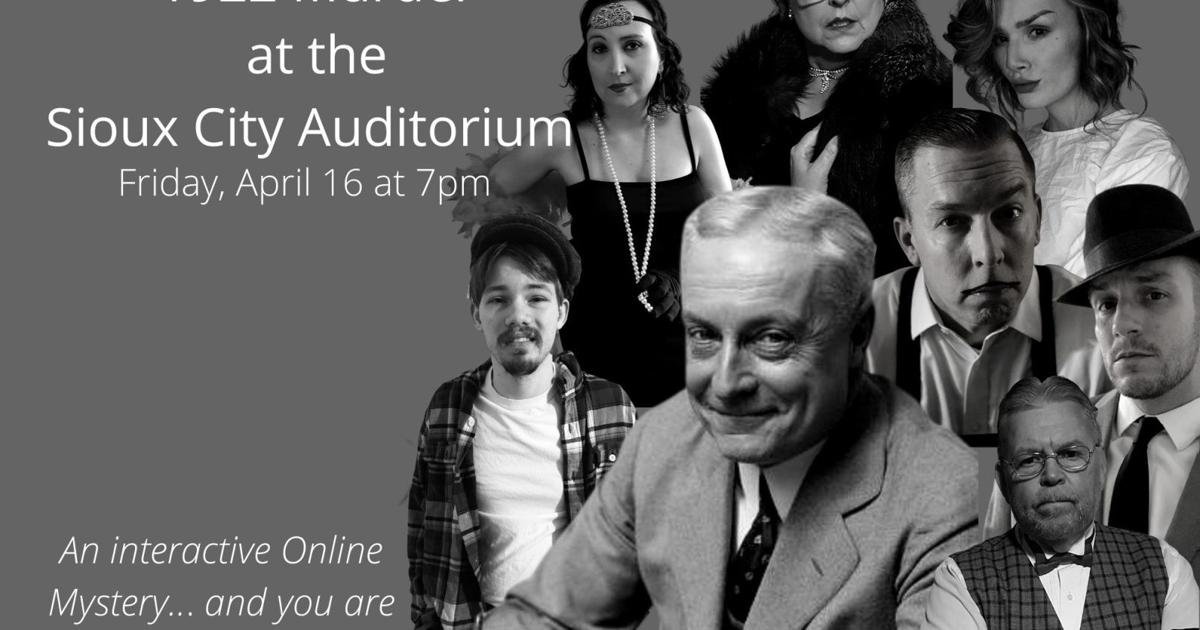 LAMB Theatre fundraiser to include an interactive mystery play | Weekender | Theater
For nearly a century, a mysterious murder has haunted the building that formerly house Sioux City's first auditorium.
You see, prominent Sioux City attorney and prohibition advocate Frank Edward Brylan was found stabbed to death at 625 Douglas St. on a fateful night in 1922.
There were six suspects to the crime yet no one was ever charged.
Whodunit? Could it have been Brylan's decidedly merry widow? Or maybe, it was a female singer, a bartender, a band leader, a stage hand or a seemingly random local woman? 
Wow, this dude sure had a bunch of enemies, didn't he?
Can you solve this case because, quite frankly, Detective Brakman, of the Sioux City Police Department, is officially stumped.
However, we have some inside info that tells us Diana Wooley, cofounder and executive director of LAMB Arts Regional Theatre, may know more about this case than she's letting on. 
After all, Wooley is the playwright of "The Mysterious 1922 Murder at the Sioux City Auditorium," an interactive play, presented by a team of actors (including the Journal's own Bruce Miller) over Zoom, at 7 p.m. Friday.
This "dinner theater, only without any dinner" is actually part of a virtual fundraiser that actually started on April 11 and will end on Sunday.   
In case you're keeping track, this represented eight days of fun for LAMB, which has been producing plays since 1979.
Proceeds will be going toward the 625 Douglas Project, allowing the theater to refurbish and move from 417 Market St. to 625 Douglas St., which was the original home of Sioux City's first auditorium and ironically, the murder scene for the completely fictional Frank Edward Brylan. 
"We're asking our audience to become detective for the night," Wooley said. "I think people will be shocked by the outcome."
Intriguing, but so is each aspect of this virtual fundraiser.
"Every day of the fundraiser, we'll be adding new items up for bid during an online auction, plus there will be a new online performance by a past or current LAMB performer," Wooley explained. "With the COVID-19 pandemic, we thought it was better to do everything virtually at lambtheatre.com."
That included an ongoing series of interviews that LAMB artistic director Russ Wooley conducted with some of the playwrights who've had shows during the theater's 41 seasons.
Also ongoing are auction items, in which people can make online bids, as well as virtual performances from past and present LAMB actors. 
However, to paraphrase P.G. Wodehouse, "the play's the thing."
If that's the case, certain ticket prices for "The Mysterious 1922 Murder at the Sioux City Auditorium" will entitle guests to home-delivered LAMB wine glasses and even home-delivered charcuterie boards.
The fundraiser will conclude with a special online "Vault" performance at 7 p.m. April 17 and the "Vault Strike," which will take place from 2 to 5 p.m. April 18.
"This project has been a long time in coming," Wooley said. "By opening up the 'Vault,' we can show the public where LAMB has been, where it will be in the future and where we stand right now."
Right now, Wooley is excited for people to "break into the past in order to bring us into the future."
Theater fans should also know that the Gilchrist Foundation will be doubling every contribution made during the fundraiser. 
Beyond that, Wooley is simply hoping to have a bit of fun.
"Who wouldn't want to be the one to crack a century-old case?" she asked mysteriously. "Someone killed Frank Edward Brylan. Whodunit?"