Everyone's favorite  Everyday Cinnamon Rolls get an autumn makeover with tender pumpkin in the dough and spices in the filling.  They're just as easy to make as the original, and such a fun twist for Pumpkin Spice season!  This fall version is topped with a simple maple glaze, making this your new go-to.
Ingredient and Equipment Notes
Rapid Rise Yeast – Look for yeast labeled as instant, rapid-rise, or quick-rise. This variety contains enzymes and other ingredients that help cut that rise time. This also means you don't need a double rise as you would with traditional yeast. Rapid rise yeast is sold right next to regular yeast in your store's baking aisle, in almost identical packaging, so just make sure you read the label to get the right one!
Flour – While not required, bread flour will result in an unbelievably moist and fluffy finished roll.
Silicone Dough Mat – Also not required, but super helpful, a giant silicone dough mat is my absolute favorite here; well worth the price- I use mine ALL the time.
Spices – The filling of these rolls is spiked with some favorite fall spices. You could sub pumpkin pie spice in a pinch, but I prefer measuring them out individually.
Maple Extract – I use Mapleine. Also called maple flavoring, you will find this by the other extracts and flavors near the spices.
How to Make Pumpkin Spice Cinnamon Rolls
This recipe is easy because there's no proofing necessary with the yeast.  Just toss it in a bowl with the other dry ingredients and whisk them together.
Add in an egg and some pumpkin pureeand then with the mixer running, drizzle in a warm milk and melted butter mixture.
That will give you a nice orange-tinted batter, to which you'll add more flour until you get a nice, soft dough. You'll then let that knead with your dough hook for a few minutes.

I say this every time I post a sweet roll recipe, but resist the urge to add more flour than needed.  This dough is incredibly soft.  The trick is to scrape it onto a well floured surface and handle it very lightly.  Don't knead in all of the flour, just dust all the sides so it won't stick to you, and especially make sure the bottom is dusted well so it doesn't stick once you roll it out.  A giant silicone dough mat is my absolute favorite here; well worth the price- I use mine ALL the time.

While your dough is resting for just a minute, whip up the filling.  This is basic cinnamon roll filling: butter, brown sugar, and a generous douse of cinnamon, plus those pumpkin-spicey flavors of ginger, nutmeg, and cloves.  You could use pumpkin pie spice as well, but I find I like using the individual spices better.
Gently spread the filling on and push it out to the edges.
Then roll them up and slice them (I use dental floss, thread works great too.  See this post if you have no idea what I'm talking about!)
Place them in a pan and let them sit to rise.  I have a "proof" setting on my Thermador Oven, but if you don't- try placing them in a cold oven with the door shut and placing a pan of boiling water underneath them.  It creates the perfect little steam room to make nice, plump rolls.

Once they've risen, pop them in the oven until they're golden brown and then slather them with a little maple glaze while they're still warm.
They're super yummy with cream cheese frosting, too!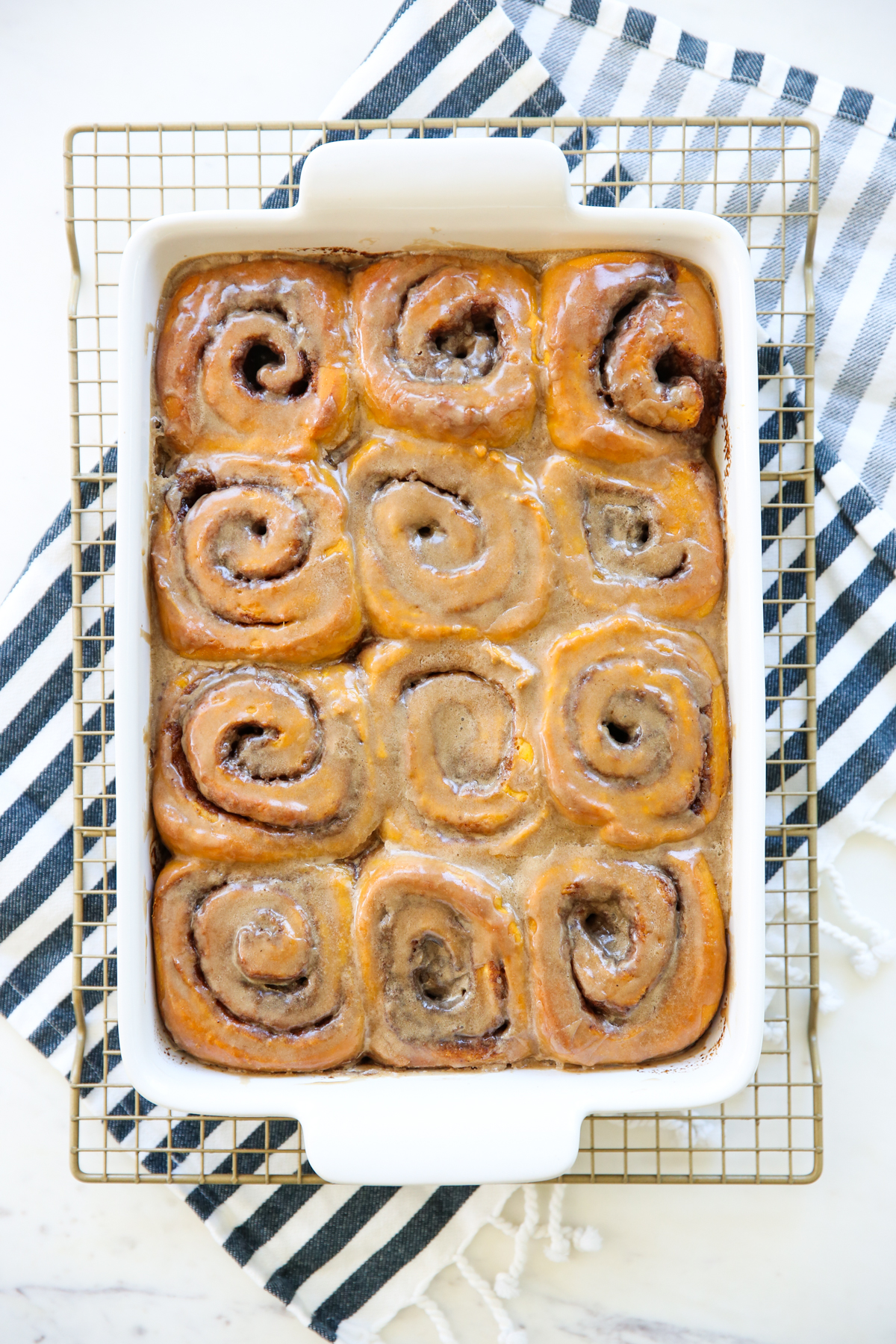 Make sure to eat them warm, and I won't tell anyone if you even slather a little extra butter in there.
Similar Suggestions
If you're in the mood for cinnamon rolls, check out my favorite Everyday Cinnamon Rolls, or these Pear-Ginger Cinnamon Rolls.
If pumpkin spice is on your mind, but you're looking for something quick and easy, try this long time reader favorite: Chocolate Chip Pumpkin Bread!
FAQs
Can I make these ahead of time? While best baked fresh, you could prepare the rolls up to 12 hours ahead of time. After placing the rolls in your prepared pan, cover the pan with plastic and refrigerate. When ready to bake, pull the pan out and allow the rolls to rise until they've doubled in size, then bake as directed. Make them in the evening and pull them out to rise in the morning!
Did You Make This?
I'd love to hear from you! Snap a picture and tag me on Instagram, and then come back and give this recipe a rating!
Print
---
Description
Tender pumpkin bread dough is filled with warm, gooey cinnamon sugar filling with hints of fall spices. Topped off with a maple glaze, these Pumpkin Spice Cinnamon Rolls are amazing!
---
DOUGH
3/4 cup milk (for best results I recommend whole milk, but anything will work!)
4 tablespoons butter, cut into chunks
4 – 4 1/2 cups all-purpose flour, divided
1 tablespoon rapid rise yeast
1/4 cup white sugar
1/2 teaspoon salt
1 cup pumpkin puree
1 egg
FILLING
1 cup brown sugar, packed
1/2 cup butter, softened
1 1/2 tablespoon ground cinnamon
3/4 teaspoon ginger
½ teaspoon nutmeg
¼ teaspoon cloves
ICING
1 1/2 cups powdered sugar
2 tablespoons melted butter
1 1/2 teaspoons maple extract
1–2 tablespoons milk
---
Dough: Place milk and 4 Tbs butter in a microwave safe bowl. Heat on high for about 45 seconds to 1 minute 30 seconds. All microwaves cook differently. The milk should be nice and warm but not scalding. Butter should be at least partially melted. Stir and set aside. In a large mixing bowl of a stand mixer, combine 2 C flour, yeast, white sugar, and salt. When milk mixture has cooled to warm (not hot) add it to the flour mixture along with the pumpkin and egg while the beater is running. Beat until well combined, about 1 minute. Scrape down sides of bowl and switch to a dough hook. Add remaining flour only until dough comes together and barely leaves the sides of the bowl. It should be very soft and slightly sticky. Continue to let the dough knead for 3-4 minutes. Scrape dough out onto a floured surface and let rest for about 10 minutes while you make the filling.
Filling: make sure butter is softened well, but not melted. Beat with brown sugar and spices until smooth.
Assembly: Dust dough ball with flour and make sure surface is well floured. Do not overwork dough. Gently roll dough into a rectangle about 18 x 14 inches (eyeball it). Spread brown sugar mixture (it will be slightly thick, you might have to "crumble" it) over the surface and use your fingers or the back of a spoon to gently spread around. Roll up from the longer side of the rectangle and pinch edges closed. Score the roll into 12 equal pieces and use dental floss or thread to cut into rolls. Place in a 9 x 13 pan that has been sprayed with cooking spray. Cover pan with a clean towel and let rise in a warm place for about 30-45 minutes. If you have double ovens, place them in an oven with a pan filled with boiling water while you preheat the other oven. In the mean time, preheat oven to 350 degrees.
When rolls have finished rising bake for 15-25 minutes or until light golden brown. (Check them at 15 minutes and watch from there. Total bake time can vary oven to oven.)  Mix icing ingredients and then spread on while still warm.
---