[ad_1]

Don't let the smoke and mirrors fool you: Dubai has slowly but surely become a great culinary metropolis. Three of the responsible are Mohamad, Wassim and Omar Orfali and their successful enterprise is a great proof that the mix of ancient civilizations and modern international influence has resulted in culinary magic. Magic like the one they create, cook and bake at Orfali Bros.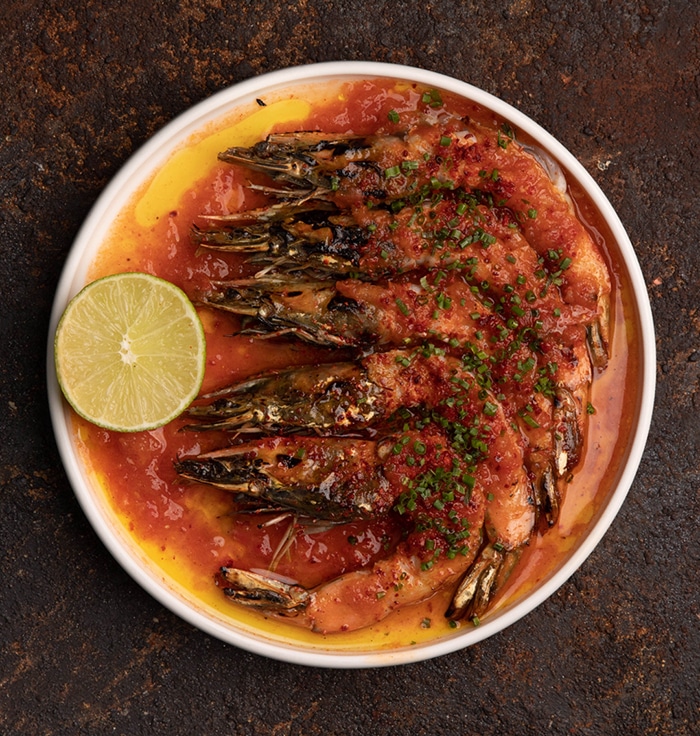 Aleppo: The Beginning
Mohamad and his two younger brothers, Wassim and Omar, were born in Aleppo, Syria. Their city imprinted in them a love for food and culture. And particularly in young Mohamad, it sparked a curiosity and a sense of belonging that made him fight against all odds to become the chef that he is today. One that shines thanks to his work and his dedication to give a new, modern meaning to Aleppian cuisine, and that on the way, has won the 6th spot at the first ever list of 50 Best Restaurants for Middle East & North Africa with his restaurant Orfali Bros Bistro.
But that path wasn't always clear nor was it easy to get to it. Orfali grew up as a part of an influential family in Aleppo, and for him that meant that his path was already set. His passion pulled him in another way, one that didn't necessarily sit well with a part of his family and social group; he wanted to be a chef. 
"My dreams of becoming a chef were not respected in my social circle in the Middle East and it took me a lot of energy and conviction to make my mother understand that being a chef was my destiny," explains Mohamad as he remembers the exact time when he was faced with an ultimatum while working in a restaurant.
"One day that I'll never forget… I had to fill in for a waiter and serve guests, only to be surprised by a group of my own friends at one of the tables. The thing is that I had never told anyone that I worked at a restaurant out of shame. That day my chef told me that if I was ashamed of my work, I should leave it. Then and there is where my personal challenge began", Orfali ends.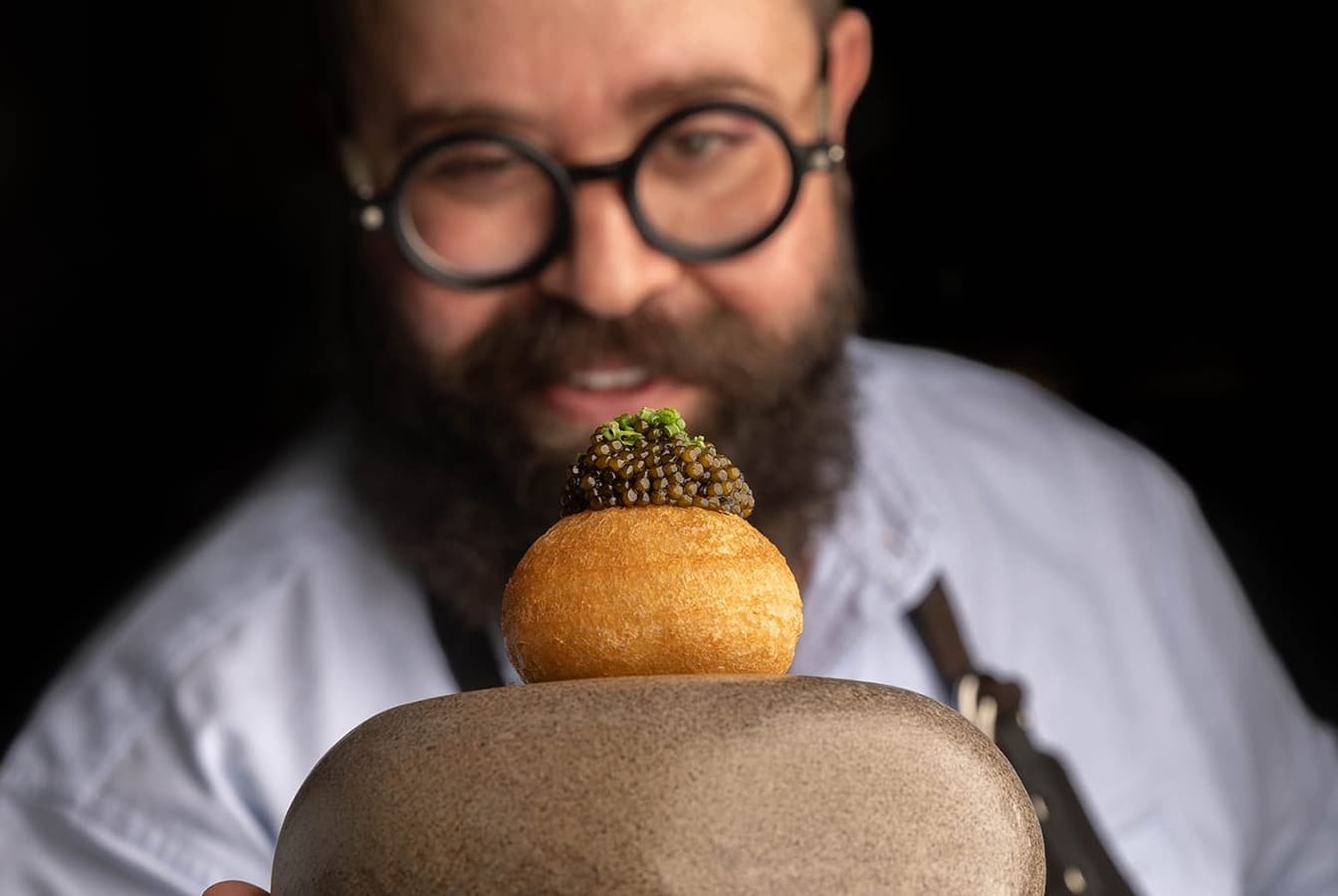 Mohamad Orfali Ep.2: From Shame to Pride.
There are a few extra challenges that a young Syrian man has to face when he decides to become a chef, and Mohamad Orfali experienced all of them. After convincing his family and going through another school he ended up becoming a student of the Institute of Hospitality Sciences in Aleppo but he found himself without tools to learn. No internet, no books, no resources to practice theory or cook… All that combined with a gut feeling that some of the things he was learning were all wrong.
The curious thing that a lot of people never think about is the fact that most international culinary schools outside of for example Italy, France or Spain teach the culture, techniques, recipes and ingredients from those regions and sometimes completely undermine their own gastronomic richness. That was the case in Aleppo.
"During my time there, and despite my ongoing fascination with French cuisine, I uncovered a genuine interest for the cuisine of Aleppo. I was astonished that Aleppian cuisine was not included in our studies, even though we lived in the Syrian capital of gastronomy and art" explains Mohamad.
It seems like most successful chefs have that turning point à la Chef's Table. That aha-moment of sudden inspiration, insight, recognition or comprehension. To Mohamad, that moment came thanks to the only teacher in his school that urged them to learn about their heritage and cuisine, Chef Wassim Mustafa. He said: "You will never cook French food like a French chef". And so Orfali confirmed his idea and turned his curiosity into a life goal of making people proud of his own gastronomic culture.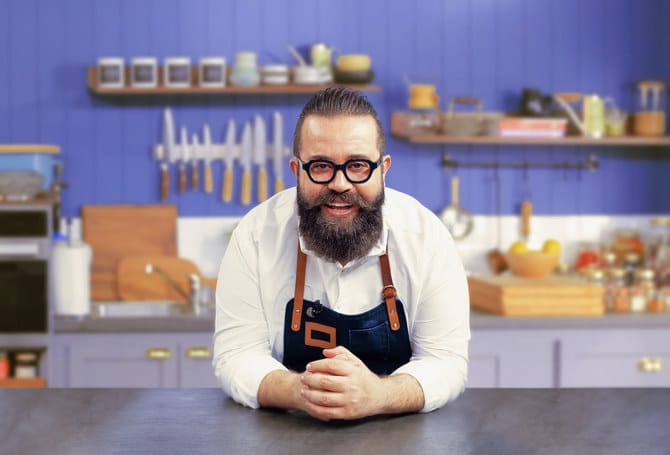 The TV Era
Without execution and maybe just a hint of good luck, those aha-moments just become unfulfilled dreams. In 2007 was the launch of Fatafeat, the first ever Arab cooking channel. And being at the right place at the right time made Orfali meet its founder Youssef El Deeb who had just visited Syria and fallen in love with Aleppian cuisine. That chain of events turned into an opportunity: Youssef asked Orfali to create an idea for a show which he had ready in five minutes.
His show was intended to start in 2007 but different reasons delayed the project. Sweet success would soon come after the premiere of the first season of Matbakhna Al Arabi (Our Arab Cuisine) in July of 2011. In a way, chef Orfali evolved in front of the cameras. He not only gained recognition and released his first cookbook, I Am Aleppian (2012). But he organically fulfilled his goal of becoming a voice for his local gastronomy while changing his own understanding and views on what Aleppian cuisine was and could become.
"The first season revolved around Aleppian and Levantine cuisine, while the second season included Lebanese. Moroccan, Tunisian and Arab Gulf cuisine, all done with my personal twist. The third season of Matbakhna Al Arabi proved to be a turning point for me. I presented Arab cuisines with contemporary methods, using modern technology like the one used to cook molecular gastronomy, to prove the richness of our ingredients." tells Orfali. This evolution would only grow with the following season and with other shows he did after.
The Bistronomy: Orfali Bros
Through all those years of learning, overcoming challenges and finding his own voice and place in gastronomy, Mohamad Orfali was also serving as an influence to his two small brothers. Wassim and Omar ended up in the kitchen as well. Not in the exact same way as they specialized in pastries, but in the same industry. And so Mohammad thought: it would be great to get the three of us together and design a new project on our own terms.
Three brothers, two passions, one goal. To create a casual restaurant, a bistro, where tradition meets modernity. A place where they can infuse their origins with every single culture, piece of art and flavors they've experienced in the last years of traveling the world. A gastronomic experience that encaptures what it really means to live in a city as international and diverse as Dubai. And no, it's not a fusion restaurant, it's a combination of what the trifecta love the most, done their way.
The two story restaurant's backbone is an open test kitchen where Mohamad and his team create a flavorful and dynamic menu using the best local and seasonal produce they can find. On the second floor, the two youngest brothers, Wassim and Omar present a colorful desserts display with a big French influence. Another part of their signature Bistronomy-idea with which they got ranked as No. 6 on MENA'S 50 Best Restaurant List within just a year of opening.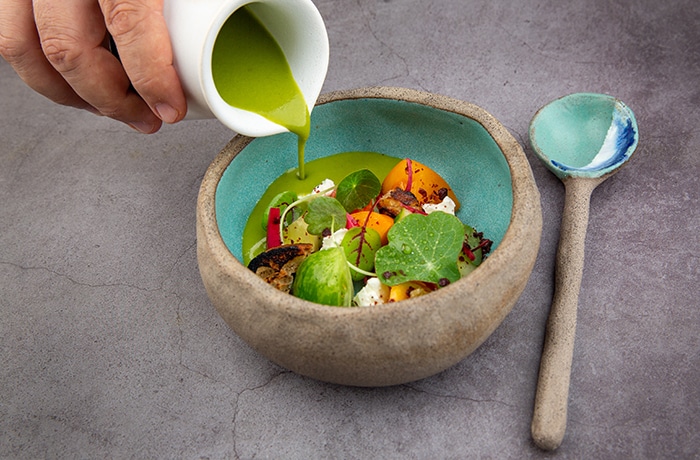 Every Dish Comes With a Story
At Orfali Bros, every dish represents a story. They are the distilled and concentrated experiences of Mohamad, Wassim and Omar, served as fun dishes or sweet baked goods and desserts. Examples? EAT H, a salad made out of spicy bulgur tabbouleh, Aleppo chili paste, tomato, puffed bulgur, olive oil and shiso leaves. A dish that Turkish and Syrians of the Mesopotamian area call kisir salad and that Mohammad reinterpreted to break barriers and unify people on a plate. 
GUESS WHAT is a dish originally created for one of Orfalis cooking shows in 2015, a new and revised take on fattoush. This new version became quite controversial, explains Mohamad: "We only used the greens to create this salad but we faced backlash for changing the iconic Levent recipe. For the second try we used pita bread, added olives and cheese as Syrians do, and decided to call this dish his own version of greek salad. Upon further backlash, we moved towards Spain and then converted this dish into a gazpacho. Days before opening the restaurant I realized that the staff was confused about the dish and how they would explain it to the clients so we called it 'guess what'. A modern take on the iconic levantine salad with a Mediterranean touch.
Last but not least, we can highlight the Shish Barak à la Gyoza. Another reinterpretation achieved with inspiration from other cuisines. The traditional Shish Barack is a mushy dish of dumplings and yogurt. For Orfali dumplings are a universal dish and his way of bringing new life to this recipe was to get inspiration from the manti that belong to the Turkish, Armenians, Afghanistans and Saudis. He makes them with chewy and crispy wagyu beef dumplings, garlic yogurt, sujuk oil, pine nuts and mint. 
In a way, Mohamad Orfali has created his own land. An imaginary diverse land where cultures, flavors, great ingredients and techniques from across the globe combined. The result is a relatable, warm and approachable take on food, one that can please people from all over the world, just like the city of Dubai, can.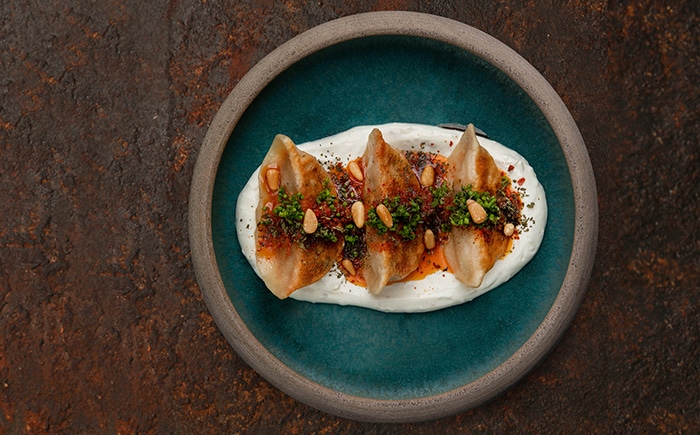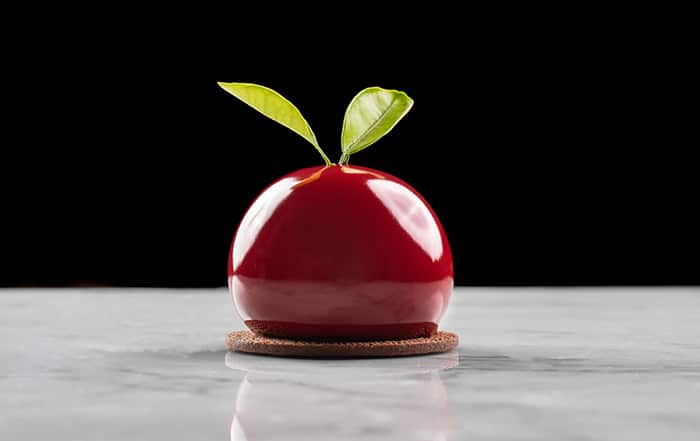 [ad_2]

Source link