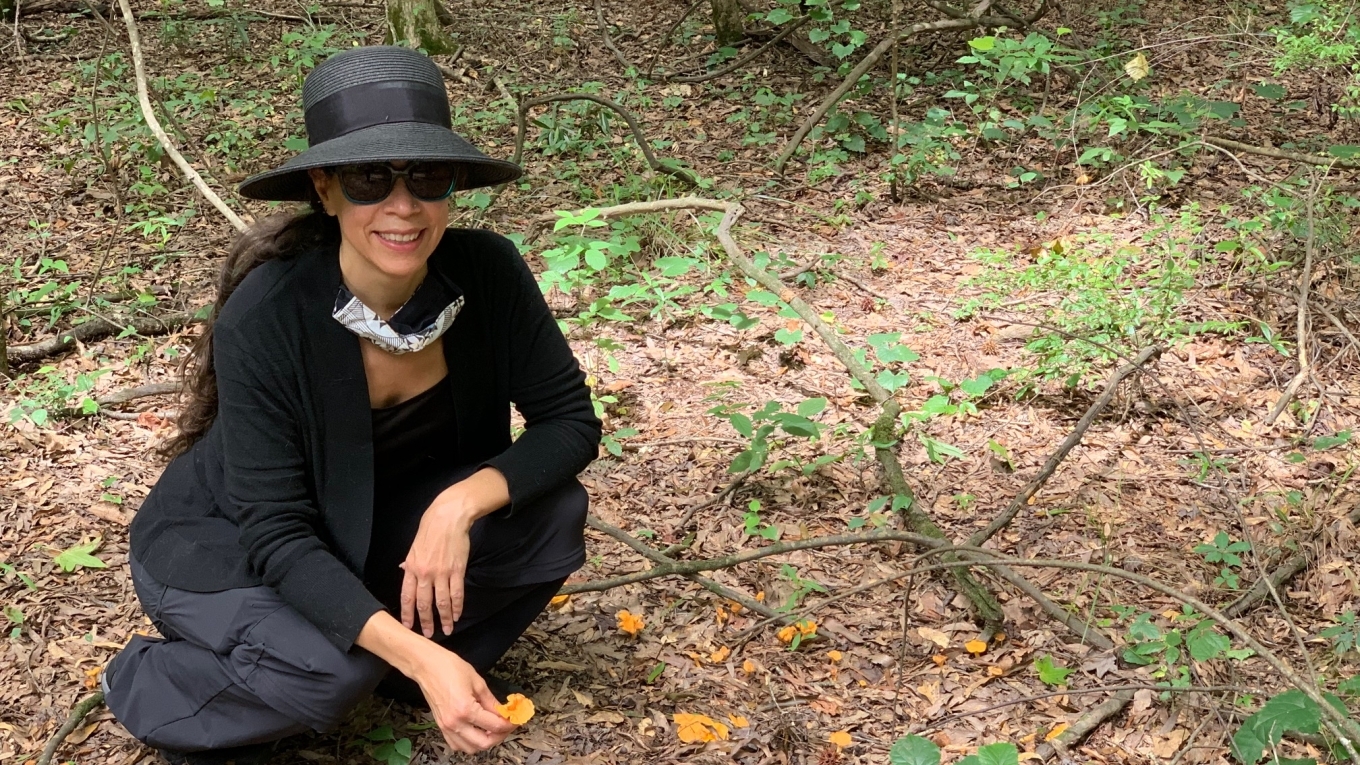 Watch Indigenous Chefs Share Culture, History and Delicious Cuisine Through 'Resilience Recipes' Series
They ate at the Smithsonian's Mitsitam Native Food Café and other restaurants as part of their studies on native food sovereignty, a movement to reclaim and restore Indigenous food systems.
"I really loved the class, it was so interesting," said Bianca Nolde-Lopez '22, an anthropology major on a pre-med track, and sprinter on the women's track and field team. "It was so eye-opening that all this Indigenous knowledge has been carried through oppression, and pandemics and so much else that was forced upon them.
"And yet they're still here, creating this amazing artwork and food, so intricately weaving their history and culture into modern life."
The pandemic forced Lewis to cancel plans to bring students to the May conference of the Native American and Indigenous Studies Association in Toronto. She and Stremlau collaborated on an alternate plan. Lewis proposed hosting "Food-preneurs"—the chefs putting a modern spin on Indigenous food. The Mellon Foundation provided funding.
"Resiliency is such an important theme in seophee.com/seo-dallas.html Indigenous studies," said Stremlau, who specializes in Native history. "They've had to rebound from ongoing traumas, widespread poverty and chronic disease. Food becomes a way to promote resilience, through gathering, preparing and feeding their elders and children."
Next semester, Lewis will return to The University of South Carolina, where she's an associate professor in the Department of Anthropology & Institute for Southern Studies. She specializes as an economic anthropologist studying Native issues.
And fighting for Native food sovereignty is at the forefront of their health and survival, Lewis said: "Reclamation is resistance. Resiliency is activism."
Stremlau said the interest in Indigenous histories and cultures continues to grow at Davidson. Lewis's residency and the Indigenous chef series have inspired students and the college community to learn more—and cook more.
"It's so important to make space for Native voices, cultures and traditions at Davidson College," Stremlau said. "The diversity of this series reflects the diversity of the different nations and regions. Native people are here, they're modern and they're relevant."
!function(f,b,e,v,n,t,s){if(f.fbq)return;n=f.fbq=function(){n.callMethod? n.callMethod.apply(n,arguments):n.queue.push(arguments)};if(!f._fbq)f._fbq=n; n.push=n;n.loaded=!0;n.version='2.0';n.queue=[];t=b.createElement(e);t.async=!0; t.src=v;s=b.getElementsByTagName(e)[0];s.parentNode.insertBefore(t,s)}(window, document,'script','https://connect.facebook.net/en_US/fbevents.js');
fbq('init', '452594295542829', [], { "agent": "pldrupal-8-8.8.8" });
fbq('track', 'PageView', []);