This recipe makes the most amazing batter that can be used for sourdough pancakes OR waffles. It works great with sourdough discard!
This sourdough pancake and waffle batter has become a serious breakfast staple in our house.
The batter is mostly made the night before which makes the morning breakfast prep super fast and easy!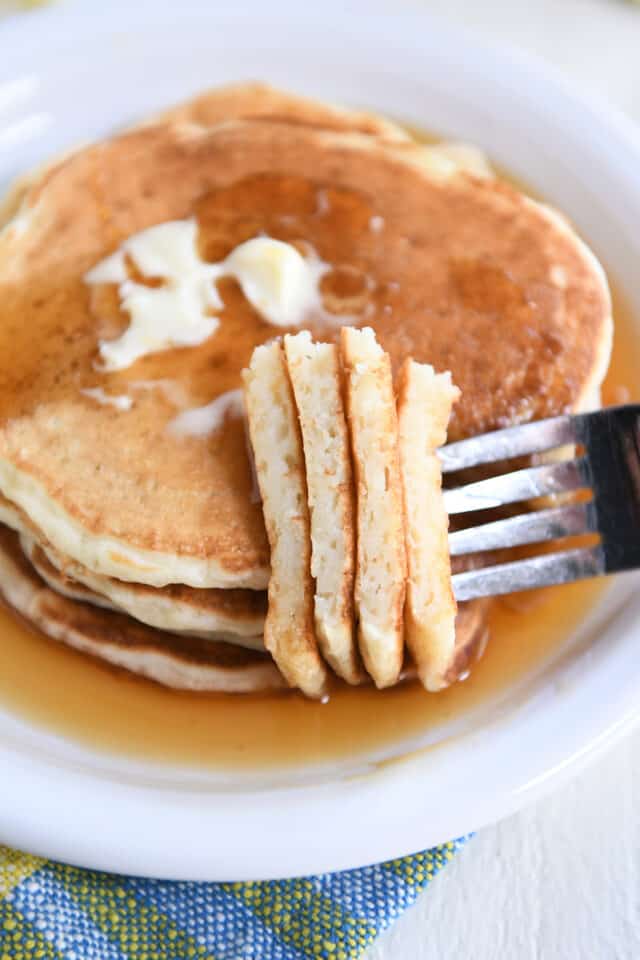 Overnight Batter
About 8-12 hours before you want to eat hot, fresh, amazing sourdough pancakes or waffles, mix up the main part of the batter:
flour (see notes in the recipe about using whole wheat)
buttermilk (homemade should work fine)
bit of sugar
sourdough starter (fed or discard; I almost always use discard)
Sourdough Tip: sourdough starters can vary in consistency and sourness. My sourdough starter is fed with a 1:1:1 ratio and has the consistency of thick runny batter. If your sourdough starter is much thicker (or much thinner), consider decreasing or adding flour in the recipe by 1/4 cup or so. 
As the batter rests overnight, it will expand slightly and bubble throughout.
That is the sourdough working its magic!
Sourdough Pancake Batter
Right before making pancakes or waffles, whisk together the remaining ingredients:
eggs
oil
baking soda + salt
Add this mixture to the batter.
Normally, I'd just throw all those ingredients into the batter and mix them right in there without dirtying another bowl, but over-mixing this sourdough pancake batter can make the cooked pancakes (or waffles) gummy.
So don't do that, ok?
Pancakes or Waffles
This batter makes amazing pancakes OR waffles.
99% of the time, we make waffles with the sourdough batter. (You'll see why in a second.)
But the pancakes are delicious, too. Thin and soft, they aren't as thick as, say, these fluffy sour cream pancakes, but they are irresistible in their own right.
Sourdough the Easy Way
I've said it before and I'll say it again, jumping on the sourdough train doesn't have to be intimidating or life altering.
I prefer to "do sourdough" the lazy girl way. And most of the time, that means using recipes that call for sourdough discard.
This recipe for sourdough pancakes or waffles is easily the sourdough recipe I make most. It's a weekly breakfast staple for our family. And my kids have almost all requested sourdough waffles for their birthday breakfasts this last year.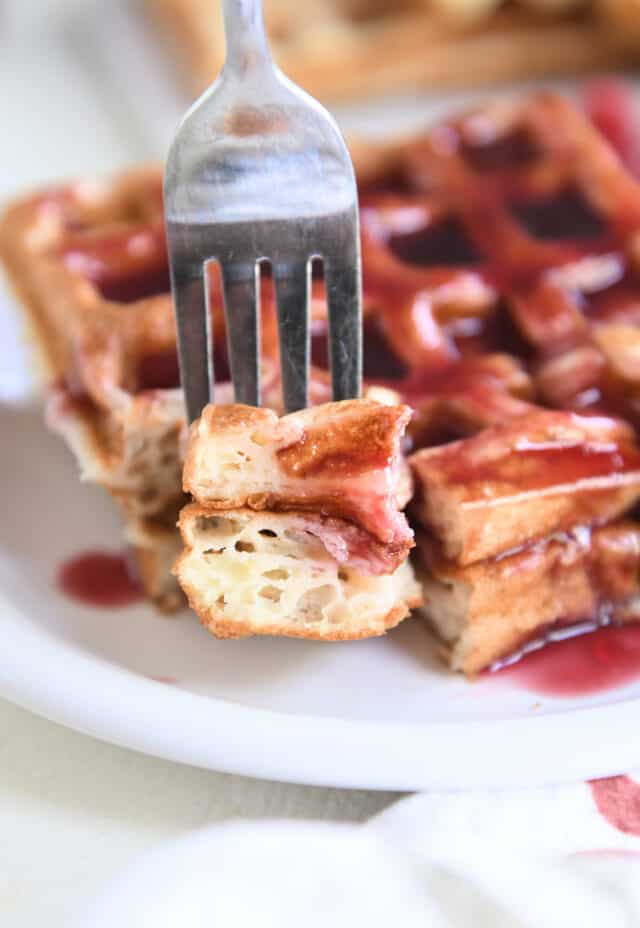 Let's Talk About Cheese Waffles
Last week, my 10-year old daughter came home from school and said her teacher asked everyone to say their favorite breakfast when he called their name for roll, and when she loudly and proudly said "sourdough cheese waffles!*" everyone had a lot of questions. 😂
If you've never had cheese waffles, you are missing out! It's the reason we almost always make waffles out of this sourdough batter.
And before you unfollow me immediately, please hear me out. My husband brought this "recipe" into our marriage, and it was one of the best things I have gained from our partnership. 😉
Right now, RIGHT NOW, rid yourself of the image of cheese waffles being like ooey gooey cheese pizza. It's not remotely close to that. Because, EW!
No, cheese waffles are the brilliant product of sprinkling a smattering of sharp cheddar cheese, not too much, on top of the waffle batter.
Take a deep breath, close the waffle iron, and TRUST ME.
When cooked, the cheese crisps up giving a delicious subtle, salty bite which pairs PERFECTLY with the syrup drenched waffles.
Salty and sweet. Cheese waffles, especially with this sourdough waffle batter, are quite delicious.
One Year Ago: Easy Homemade Salted Butterscotch Sauce
Two Years Ago: Brown Butter Caramel Snickerdoodles
Three Years Ago: Brown Butter Pecan Granola 
Four Years Ago: Caramel Apple Cheesecake Bars with Streusel Topping
Five Years Ago: Easy Pumpkin Bars with Whipped Cream Cheese Frosting
Six Years Ago:  New England Clam Chowder Our Favorite Version
Seven Years Ago: Slow Cooker Butternut Squash Tortellini
Eight Years Ago: Baked Ham and Swiss Malibu Chicken 
Nine Years Ago: Loaded Broccoli Cheese and Bacon Soup
Ten Years Ago: Spaghetti Pie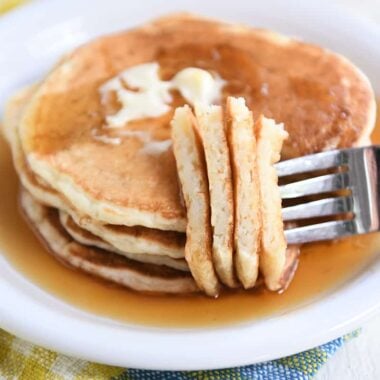 Sourdough Pancakes or Waffles
2

cups

(

284

g

)

all-purpose flour (see note about whole wheat flour)

2

cups

(

500

g

)

buttermilk

1 to 1 ½

cups

(

270-400

g

)

sourdough starter, fed or discard

2

tablespoons

(

27

g

)

granulated sugar

2

large

eggs

¼

cup

vegetable, canola or avocado oil

1

teaspoon

baking soda

¾

teaspoon

salt
Stir down sourdough starter (whether it's been at room temperature or in the refrigerator). In a large bowl, add flour, buttermilk, sourdough starter and sugar. Mix until evenly combined. A few small lumps are ok.

Cover and let rest at cool room temperature for 8-12 hours (or refrigerate for up to 3 days). The batter will bubble and expand.

Right before making pancakes or waffles, in a small bowl, whisk together eggs, oil, baking soda and salt until well combined.

Stir this mixture into the overnight batter and mix just until combined. Over mixing can cause the pancakes or waffles to develop a gummy texture when cooked. The batter will foam and bubble a bit while stirring; this is normal.

Cook pancakes on a preheated griddle and/or waffles in a preheated waffle iron. Serve waffles immediately for best texture (crispy on the outside).
Flour: I haven't tried this recipe with whole wheat flour. If using whole wheat, I'd suggest using white hard or soft wheat (for a lighter texture) and start with using half whole wheat/half all-purpose and see how it goes. 
Sourdough Starter: different sourdough starters can vary in consistency and sourness. My sourdough starter is fed with a 1:1:1 ratio and has the consistency of thick but runny batter. If your sourdough starter is much thicker (or much thinner), consider decreasing or adding flour in the recipe by 1/4 cup or so. 
Serving: 1 pancake, Calories: 142kcal, Carbohydrates: 19g, Protein: 4g, Fat: 5g, Saturated Fat: 1g, Cholesterol: 27mg, Sodium: 218mg, Fiber: 1g, Sugar: 3g
Follow @MelsKitchenCafe on Instagram and show me the recipes you are making from my blog using the hashtag #melskitchencafe. I love seeing all the goodness you are whipping up in your kitchens!
Recipe Source: adapted slightly from King Arthur Flour and this recipe from NYTimes (increased the flour slightly – the cup measure is the same, but KAF uses less weight per cup of flour than I do, so overall, I use about 1/4-1/2 cup more flour in the recipe; increased amount of sourdough starter similar to NYTimes recipe; added additional details to the recipe)
Disclaimer: I am a participant in the Amazon Services LLC Associates Program, an affiliate advertising program designed to provide a means for me to earn fees by linking to Amazon.com and affiliated sites. As an Amazon Associate I earn from qualifying purchases.