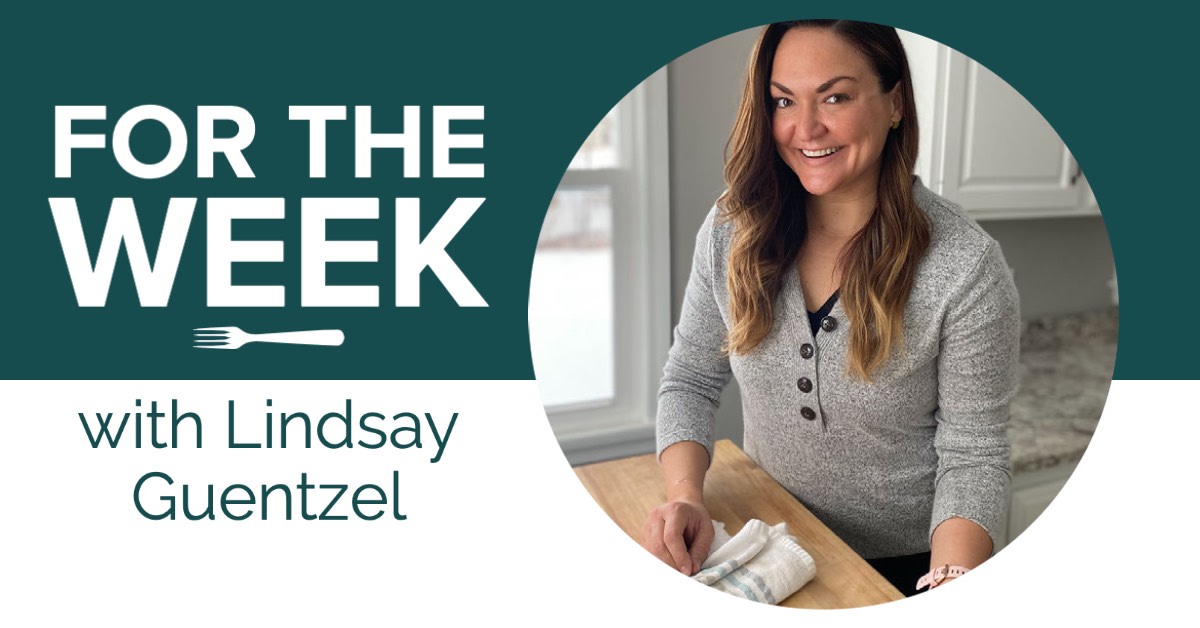 For The Week: Your recipe and meal prep questions answered
Welcome to For The Week, my weekly column that comes out every Sunday and focuses on all things food for the seven days ahead.
So far, we've talked about the power of the Refrigerator Plate, the one-meal rule, looking at meal prepping and planning as a chore, and embracing the concept of Fridge Foraging.
I highly suggest you go back and start at the beginning because each tip and trick can be used together to help make your life easier (if you would like to go back and read previous editions of For The Week or check out my other recipes, visit my author page).
This week dives into your questions. I wanted to connect with readers to find out what will help you moving forward. So while I answered the questions sent in, I will also be using them to develop future editions of For The Week.
You can submit your own question by emailing me at [email protected]
Q: What's the best way to start meal prepping and planning? My partner and I want to do both but we're overwhelmed and both of us are working outside of the house right now so time and energy is lacking.
The best way to start is to do just that: start. Many times when we are starting something new, we spend so much time worrying about how we are going to do it that we end up putting it off because we are overwhelmed.
Now would be a good time to remind you that you have to walk before you can run. For meal prepping and planning, you need to learn basic skills and strategies before you can move to becoming an expert. I've said this a million times, your meal prepping and planning and my meal prepping and planning are always going to look different. Why? We have different needs and wants and we simply live different lives. Plus, I've been doing this for years so I've worked out all of the kinks in my own routine by lots of trial and error. My goal is to help you develop your own routine without as much work.
So let's talk about ways for you to start. One very easy way to help you out during the week is to prep your proteins ahead of time. They tend to be what takes the longest in the recipe and by having them made ahead of time, you can throw together meals without too much work. Not much of a cook? Buying a rotisserie chicken from the store is a great way to get started. I like to get mine all cut up so it's ready to use — plus it takes up a lot less space than a full bird. Using a slow cooker is also a great way to get proteins cooked up and ready to go because slow cooker recipes require very little work. In our house, we'll whip up a big pork shoulder on a Sunday, have some for dinner and then use the leftovers throughout the week in other meals.
It's very important that you don't get ahead of yourself. Don't expect you or your partner to be perfect at this right away. That is just not logical and it can set you up for failure. Give yourself small goals and tasks to accomplish each weekend and once you start to feel like those are routine, you can add more. I challenge you to prep one protein this weekend and write out five to seven meal ideas you can use with it. Post those ideas in your kitchen where you can see them.
Another great way to amp up your motivation around meal prepping and planning is to get as much out of every kitchen mess as possible, meaning if you are making a mess in the kitchen – make it worth it. Whip up a bigger dinner than you need and immediately set aside the leftovers for lunch later that week. Or take those leftovers, let them cool, label them and store them in the freezer for a day when you don't have time to cook but don't want to eat out.
Mealtime tends to feel very daunting when we have nothing prepared and we are starting from scratch. So work on getting yourself to step 2 or 3. You've got veggies cleaned and cut up, your protein is already made and just needs to be reheated — opening the fridge and knowing you've cut out a lot of the work will ease so much stress and anxiety and will motivate you to keep building your own routine.
Q: Where do you find new inspiration for recipes?
I'm one of those annoying cooks who doesn't follow recipes. I'm not a huge fan of cookbooks and unless I'm baking, I tend to be more of a concept person. That said, I love following food bloggers on Instagram and Pinterest. These are people whose entire job is to create delicious, beautiful recipes and share them online. I always say, everything you need is available on the Internet and we have these bloggers to thank for that.
While I'm not a strict recipe follower, I do keep a running list of meal ideas and meal success stories in my journal. Writing things down — or saving photos — is a great way to remind yourself of recipes, concepts or ideas. Just a helpful, easy way to keep track of it all.
Q: By Thursday, I have the But-I-Don't-Wanna-Dirty-Another-Dish attitude. Got any tips for easy one-pot meals for the end of the week?
Sheet pan meals are a great option if you are trying to keep things simple but also want to have a complete meal. It's essentially a giant roasting pan — where you cook your meat, veggies and starches together (a great example is chicken breast, veggies and potatoes covered in barbecue sauce). You do need to pay attention to cooking times with sheet pan meals — your protein will likely take longer than everything else. But it's a great option for cutting out a ton of dishes.
I'm a big fan of skillet meals. One of my go-to dinners is chicken, lots of onion, garlic and veggies, cooked up in a skillet and then topped with a jar of tomato sauce. Sometimes I make rice or pasta on the side (breaks the one pot rule), other times I top it with some cheese and each it just like that. Using your grill is also a great option for less-mess meals. I love grilling up our protein and then roasting the veggies in a little foil wrap.
This could also be a great area to explore how you can make a little more food at the beginning of the week to have leftovers on hand for those nights when you just do not want to wash another dish.
Q: How do you keep things fresh? If I plan more than 3-4 days in advance, I find the produce has gone bad. Is the answer just to freeze everything?
This is a common problem for people who want to grocery shop as little as possible. I have found that most produce still needs to be stored in an airtight container while in the fridge. I haven't had much of an issue with fruits, like apples and oranges, but anything that can wilt or go soft quickly I like to put into a plastic container when possible. Even if you are keeping them in the proper drawers, you want to make sure they have as much protection around them as possible.
Plastic and glass containers can take up a lot of space so I like to clean and cut up my produce to keep things as streamlined as possible.
I'm not a fan of freezing fresh produce because it can easily change the texture of the item and it tends to not cook the same as it would if it were fresh.
Q: I like variety during the week but don't want to buy 50 things. What's good for mix & match?
I always have a protein cooked and ready to go and plenty of my favorite veggies on hand at any given time. That way I know I can throw together a satisfying meal without overthinking things.
I would steer clear of trying to cook too many recipes during the week. That tends to be how our shopping lists grow because most recipes require so many ingredients. Lean more into exploring concepts — a pasta dish, a sheet pan meal, a rice bowl, a salad — where you can use things you enjoy without having to buy anything you might end up wasting.
I would also work on developing the mindset that every meal doesn't have to be the best meal of your life. Yes, we want variety and we want to eat things we enjoy. But we can do that without spending hours in the kitchen or shelling out a ton of money at the grocery store. Have lots of spices and sauces on hand and get comfortable thinking outside the box. As long as you enjoy it, who cares if it isn't an actual recipe?
Q: I like to shop the weekly sale ads, especially with protein. Is there a way to create make-ahead meals based on sales and a budget?
This is how most of us were raised. Eating meals built from what was on sale at the store that week. I think there are a few things that have pulled us away from that — one, the invention of the Internet (it presents us with so many options) and two, a shift away from looking at meals as fuel (I'll say it again, not every meal has to be show-stopping production).
I would start by writing down a list of meals you enjoy. It can be very specific or you can start by listing out different types of cuisine that you like. Then when you get the ad for the week ahead and decide what you are going to buy, work on connecting the items you are going to buy with the meals on your list.
Let's do an example. Let's say pork shoulder is on sale this week. Go back to your list and come up with a couple of connections — tacos, sandwiches, rice bowls, pasta dish. If you are struggling, Google it. 'Pork shoulder meal ideas' or 'Dinners to make with pork'. Someone out there has already done the work for you and their ideas and concepts are just sitting on a website waiting to make your life easier.
This is a great area to embrace leftovers too. Make dinner on Sunday or Monday night using the ingredients you found on sale and make extra, knowing you'll be eating them throughout the week for other meals.
Q: How do I get in all the good veggies?
Eat a salad.
I'm kidding, sort of. Getting in enough vegetables throughout the day is a challenge for even the healthiest eaters. So I like to fit in a big chunk of my veggie intake at one meal. That way, I know I'm ahead of the game for the rest of the day. I'm a creature of habit when it comes to food and I'm perfectly content eating the same salad everyday for lunch. I load it up with all of my favorite veggies and I prep it all ahead of time so I have no excuse when lunchtime hits and I need to eat.
A great way to sneak in more veggies is to think outside the box on how you use them in a meal. We love taco night in our house but most veggies don't tend to fit in well with that meal. So I've started adding diced cauliflower, onions and peppers to the ground beef. Because they are well seasoned and cooked with the meat, it's a really simple addition that doesn't change the meal too drastically.
Like Lindsay's work? Follow her recipes, blogs and videos here on Bring Me The News or on her website https://lindsayguentzel.com/. Or follow her on social media @LindsayGuentzel on Twitter and Facebook.